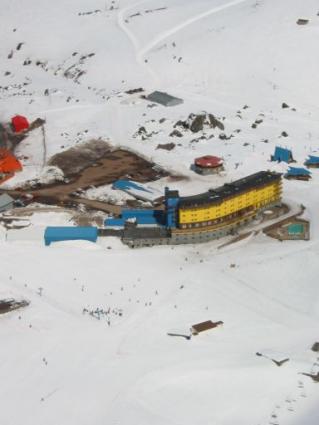 Once you've explored the best American ski resorts, you might want to visit the best ski resort in Chile. Ski Portillo is easily the winner of this title. Since this resort is located in South America, it's the perfect venue for a summer ski trip.
1. Portillo Terrain
Portillo has terrain that is suitable for all levels.
Unlike many South American ski resorts, Portillo has terrain that is suitable for all levels, which makes it the best ski resort in Chile.El Puma, El Corralito, and La Princesa are Portillo's beginner trails. El Conejo, Las Lomas, Canarios and Bajada del Tren are suitable for advanced beginners and low intermediates. The Juncalillo run is Portillo's longest. It is a popular practice run for the U.S. and Austrian ski teams. Along with David's Run, Descenso, Los Zorros, and El Estadio, it is suitable for advanced intermediates.
The Roca Jack and Condor runs provide excitement for advanced skiers. You can also ski off-piste on the Primavera Run.
2. Hotel Portillo
Portillo provides three different lodging venues.
Portillo provides a wide range of lodging options. It is one of the world's only all-inclusive ski vacations.The price of your Portillo ski week includes lodging, lift tickets, four meals daily and apres ski snacks. Luxury lodging is available in the main hotel, while budget lodging is available in the Inca and Octagon Lodge. However, wherever you stay, you enjoy dining privileges in the elegant Portillo restaurant, where a suited host brings you to your table. There's a good chance that you may be seated near the Austrian or U.S. Ski Team.
When you come in from skiing, there's free equipment checking in the hotel basement. Change into your shoes and allow your feet to relax. If you check out before 10 a.m., you can receive an eighth day of skiing at no extra charge.
Price: $590 to $4200, depending on room size, building and ski season.
3. Apres Ski Activities
Portillo boasts numerous on-site activities.
Portillo has a full service fitness center, a movie theater and a disco. Additionally, if you're friendly, you might find yourself invited to elite private parties, which may be hosted by upscale magazines, equipment demo teams or international ski teams. These activities are included in the price of your ski week.
4. Family Friendly
Portillo is the most family-friendly resort in South America.
Portillo has special kids activities, as well as free childcare. Most resorts charge for these services. Portillo's free childcare and family-friendly activities make it the best ski resort in Chile.
5. Transportation
Shuttle services
Portillo provides round-trip transportation from Santiago or from the Santiago Airport. Many resorts do not have this service.
Price: $75 round trip
7. Make New Friends
An international clientele
Portillo attracts people from all parts of the globe. Many plan to return at the same time each year!