Which Detergents Work Best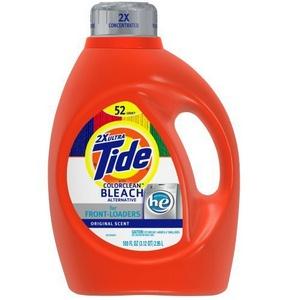 Which detergents work best can be a matter of what type of washing machine you use and what you're looking for in a detergent. Front-loading and top-loading washers have different sudsing needs. Some families require heavy stain removal, while others are more concerned about odor. Whether you wash delicates in the sink or uniforms for the entire soccer team at the local Laundromat, one of the following choices is sure to be the best working detergent for you.
1. Tide 2X Ultra Concentrated with Color Clean Bleach Alternative HE
In deciding which detergents work best, Consumer Reports ranked liquid Tide with Bleach Alternative the number one choice for front-loading washers. It received an overall score of 87 and an Excellent rating, while costing a mid-range 25 cents per load. In a Slate.com test, this detergent came out on top in terms of preventing fading, even though, unlike other brands, it made no claims about preserving colors.
2. Tide 2X Ultra Concentrated with a Touch of Downy
This Tide formula was the top Consumer Reports pick for top-loading washers with a score of 85. Online consumer reviews show that it's a popular choice with average shoppers, including five-star reviews on Amazon.com and Meijer.com. The addition of Downy adds fresh scent to clothing and helps streamline the washing process by eliminating the need for a separate fabric softener.
3. Cheer 2X Ultra Concentrated Color Guard for High Efficiency HE Fresh HE
To assess detergents' stain removal power, Slate.com coated test clothing in a mix of New York street grime, barbecue sauce and jelly doughnut filling. Cheer removed all traces of the dirt, a formidable job, and outperformed both Tide and Dynamo. The detergent also came in second on the Consumer Reports front-loading washer list.
4. Gain 2X Ultra Concentrated Original
Gain Ultra Concentrated was fourth among detergents for front-loading washers in the Consumer Reports rankings, receiving a Very Good rating. However, it was the most economical choice among the tested detergents, ringing up at only 16 cents per load.
5. SDH Fine Fabric Wash
SDH is known for selling all-natural linens for the bed and bath. This company's high-end products require a delicate touch in the washer, so the SDH Fine Fabric Wash was created. However, a New York Magazine feature touted that it worked just as well on jeans as it did on delicates. The company carries its quest for natural materials to this detergent, keeping it free of dyes and perfumes.

Website: SDH Fine Fabric Wash
6. Gain Joyful Expressions Laundry Detergent
If your answer to the question, "Which detergents work best?" is, "The ones that leave my clothes smelling the best," then Gain Joyful Expressions is the perfect choice for you. Apple Mango Tango and Mandarin Lime Fusion will infuse your clothing with a unique, noticeable scent.
7. OxiClean Detergent Ball
OxiClean is a trusted name in cleaning products, and the company's Detergent Ball is a good choice for those who don't like to worry about the details of laundry. You place the ball in a special casing and leave it in your washer. Unfortunately, online consumer reviews indicate that the ball rarely lasts through 25 washes as promised on the packaging, making this a top pick only for those who are willing to pay more for convenience.
8. WIN Sport Detergent
WIN Sport Detergent claims to be able to remove soaked-in sweat and odors on athletic gear and workout clothes. Soaking clothes in WIN before washing them particularly produces noticeable results.