When looking for a beach-side vacation, sometimes stepping outside of the box can provide amazing options. Whether you want a secluded stay or some adventure alongside your beach time, these great vacations have a little something special for everyone.
1. Coronado Island, CA
---
This picturesque beach is a literal time warp! The Hotel del Coronado on Coronado Island was established in 1888 and has kept its style pretty in tune to that time period ever since. It's also known for the 1959 box office smash, "Some Like It Hot," with Jack Lemmon and Marilyn Monroe. It is everything the "golden age" of Hollywood has to offer and so much more with sprawling beaches and its proximity to downtown San Diego, but it comes with a price tag to match. TripAdvisor gave this hotel a certificate of excellence.
It's easy to spend your entire trip beach-side, as this somewhat secluded beach is nothing but pure gorgeousness. The hotel offers outdoor dining, a pool, concerts, and beach activities and rentals. For a change of pace, you can catch an Uber to the Gaslamp District or Old Town if you're looking for family activities or nightlife.
2. Playa del Carmen, Mexico
---
Designer rooms, palm trees, white beaches, and crystal clear water are what you're in for when you stay at Be Playa hotel in Playa del Carmen, Mexico. Rooms look like they are straight out of a beautiful beach photograph, and this hotel places guests' comfort as its top priority. It also doesn't have a bad price tag for all the luxury that is offered at this boutique hotel. Expedia claims it is a top hotel for the area.
Shops, cafes, and bars are within walking distance from the hotel after your fun in the sun, and there is a vibrant nightlife after the sun goes down. It's the perfect mixture of tranquility and adventure all in one vacation. If you're looking for a little spice to add to your vacation, this is the place to go!
3. Sandy Cay, British Virgin Islands
---
If you're really looking to get away from the hustle and bustle of daily life, Sandy Cay on the British Virgin Islands is a great place to escape. The views are to die for, and relaxation is king. Plus the Long Bay Beach Club is the perfect hotel to complete your peaceful trip. Ocean views and a restaurant set in an 18th-century sugar mill are only a few of the amenities offered. Hotels.com agrees this hotel is great, as it has over 90 reviews giving approving nods.
This hotel offers all-inclusive packages, as well like their three-night, five-night, and seven-night packages. These packages include perks like beach canopies, beachfront VIP service, breakfast, and excursions to enjoy during your stay.
4. Bora Bora, Tahiti
---
Bora Bora is known for its overwater bungalows; it's straight out of the pages of pretty much every travel magazine in existence. The Four Seasons Resort Bora Bora offers you this unique opportunity to stay over the tide and enjoy your own private bungalow escape. It's all clear skies, water, and views for miles and miles.
Because it's the Four Seasons, of course, the food is exquisite on-site. Arii Moana provides guests with delectable Polynesian French fusion foods with an emphasis on seafood and melt-in-your-mouth meat dishes. There is an on-site spa, as well as stand and paddle board rentals available. Pricing starts at around $1,900 per night. Hotel Hunter gives this hotel a full five-star rating!
5. Nantucket, MA
---
Here's a different kind of beach for you to enjoy. It's not all about the rays and typical beach experience in this quaint town; it's about the ambiance of Nantucket too. The best place to get the real vibes of the town is at the Brass Lantern Inn, a cozy bed and breakfast close to these calm waters. Built in 1847, the inn has served as a guest house for more than 100 years. BedandBreakfast.com gives it a diamond rating.
Nantucket is a quiet beach getaway. Visitors in all seasons can enjoy the small town feel of the island while visiting local shops and museums that explore the regions history and traditions.
6. Dobrota, Montenegro
---
If you're searching for a European beach adventure, Dobrota, Montenegro has a great small country vibe. Open since 2006, The Queen of Montenegro sits on top of the surrounding hills like a fairytale castle with a beautiful view of the Adriatic Sea. There is an immediate beach and a Mediterranean landscape for guests to enjoy during their stay. This hotel won an award of excellence from Booking.com in 2016.
Jump into the infinity pool, or relax on one of the hotel's beach loungers steps away from the water. There's beach restaurant available for a light nosh or a drink while getting your sun on. Kayak and pedal boat rentals will get you out on the water too.
7. Whitsunday Islands
---
Australia is known for so much more than just its beaches! This country offers everything from heart-pumping adrenaline-fueled activities to a pampering and laid-back atmosphere, and this holds especially true for the Whitsunday Islands. The Baybliss Apartments make you feel right at home while being away from home. Expedia lists it as its first choice for area accommodations.
Look out your window and experience some of the area's unique wildlife as this hotel is located away from the buzzing of city life. Visitors are invited to snorkel, fish, scuba dive, sail, hike, kayak, take a helicopter tour, or even look for crocodiles. You'll find that there is so much to do and not enough time to do it all!
8. Honolulu, HI
---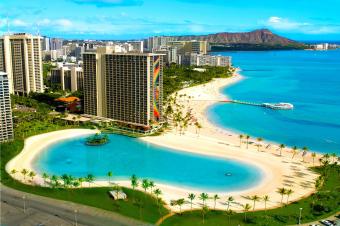 Okay, this hotel has an actual boat ride and a tram in the middle of it to get you to your room. If that's not spectacular enough, they are also within walking distance to a beautiful Hawaiian beach. Yup, it's paradise. The Hilton Hawaiian Village offers every amenity you'd expect from a high-class Hilton and so much more. They even periodically offer deals like 20 percent off your suite price or fifth night free on their website, so keep a sharp eye out when booking. TripAdvisor lists this luxury hotel as its number one hotel option for vacationers.
You can stay right on the property and get everything from luaus to laid-back beach days; there's even an on-site shopping center to enjoy. Try out the pool with water slides for the kids. If you do decide to venture out, there are lists upon lists of tours to go on, such as a tour of Pearl Harbor. The options are endless on this fun island.
9. Huntington Beach, CA
---
Ah yes, Huntington Beach, otherwise known as Surf City USA, is known for its large beaches as well as its activities for visitors and locals. The Hyatt Regency Huntington Beach Resort and Spa is right in the middle of the action and is across the street from this well-known beach. Trivago claims this hotel is excellent and gives it a top-rated seal of approval.
Not only do you get ocean views a stones-throw away from the beach, but you are less than a mile from the famous Main Street. This is where the nightlife thrives, and it is also home to many great shops and restaurants. During the day, beach rental stations are open to either help you get beach necessities, go on a scenic bike ride, or even teach you how to surf.
10. Athens, Greece
---
Of course, Athens is known for its history and sights, but it also has gorgeous beaches to soak in some sun. Mare Nostrum Hotel Club Thalasso has 223 sea view and mountain view rooms along with 123 sea view bungalows arranged around gardens and a pool. You can enjoy the old world charm of Athens with a little modern luxury. This hotel is at the top of Booking.com's "Our Top Picks" list.
Spend the day beach- or poolside at the amazing indoor pool or venture out and get some time in the traditional Greek baths too. Take a historical tour, dine among the locals, or stay put in this all-inclusive hotel and enjoy its many amenities. Unwind with a massage, or pamper yourself at the spa. The choice is yours!
Get the most out of your beach vacation by finding exactly what you and your family are looking for before you book. You can go exploring, relax, or mix sightseeing in with beach time if you plan properly. Once you find your little place in the sun, enjoy it to the fullest because the time goes by fast!