Best Rated Car Alarms for Any Budget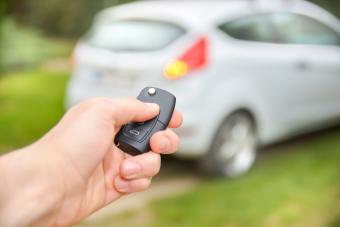 As the methods of car thieves evolve, it's important to keep one step ahead with the best car alarm technology available. These top motor guardians have been praised by car experts and reviewers for their quality, effectiveness and convenient features.
1. Viper 5706V
---
After Top Ten Reviews spent 60 hours researching alarms, the Viper 5706V emerged as the very best car alarm on the market. It has a remote starting capability, long-range remote, LCD displays, smart app integration with the Viper SmartStart app, and at about $204 it costs less than the other high-end LCD alarm on this list (the Python).
2. Compustar CS6900-AS
---
Car Audio Now gives the Compustar CS6900 the highest spot on its list of top car alarms. Besides a two-way remote, keyless entry and a huge range, the alarm has a shock sensor feature that notifies your remote if someone has bumped your car. This not only helps in theft scenarios, but in hit-and-run situations when someone bumps your car and tries to sneak away. The alarm runs about $150.
3. Viper 3106V
---
In its list of the top vehicle alarms, Safewise only partially disagrees with Top Ten Reviews. It names a Viper model as the number one alarm on the market, but picks the 3106V. It's simpler to operate, less costly (only about $60) and Safewise praises it as an ideal "entry-level" alarm for someone who's on a budget but wants top quality and effectiveness. Besides panic alarms (with six different sounds), it has shock sensors like the Compustar.
4. Python 5706P
---
The Python 5706P won the top spot in Cole Review's list of the best car alarms. The product reviewer fell in love with the product's ultra-thin LCD display (deemed the sleekest, foxiest one on the market). Its two-way remote has a whopping one-mile range, and it can notify you through tone, vibration, text or LCD display when the alarm recognizes an attempt being made on your car. It is one of the most expensive alarms, however, coming in at about $250.
5. Clifford 5906X
---
Pro Car Reviews gives the Clifford 5906X top billing on its list. It's another expensive option, but if you have an expensive car and you don't care about price, this alarm is for you. Its remote has a HD-quality video display that uses a special "wheel" design to navigate (patented by Clifford). It even has a mini-USB charging port.
Overall this alarm is the fanciest alarm of the lot with intriguing descriptors such as "Revenger® 6-tone siren" and "Stinger® DoubleGuard® Shock Sensor," among many other deluxe niceties mentioned on the manufacturer's site. It runs about $500.
6. Easyguard EC002
---
Also rated one of the best by Pro Car Reviews, the Easyguard EC2002 runs about $140. It's unique because it comes with a keyboard entry system in the kit and not just a remote.
They keyboard makes it extremely easy to use (more like using a computer) so that you don't have to bother with transponders during installation and operation. It has many of the features listed in the alarms above but at a more competitive price than the higher-end alarms.
7. Avital 5303L
---
Thoroughly Reviewed rates the Avital 5303L as a leading car alarm. It has similar two-way remote LCD features as the alarms above. It also has a trunk release button and an option that controls the power locks. With the latter you can lock the car from inside a building and cause the car to go into a "lockdown" mode in which no one can pry open the door or enter the car without the special transmitter in your remote.
When an attempt is being made on the car, the alarm flashes the headlights in addition to the siren. This alarm costs about $300.