The best prom hairstyle is one that will make you feel comfortable throughout the evening and that will stay in place while you dance the night away with your friends. Choose your desired hairstyle well in advance so you can pick up any accessories you might need, like jeweled hair clips or attention-grabbing, colorful blooms, before the big day. The following list includes the best hairstyles for different lengths and textures of hair so you're sure to find something that will work for you.
1. The chignon
---
A classic, easy updo.
Most people love to have updos for the prom because it gets your hair up out of your way and is usually lacquered with enough hairspray that there's little chance it will fall down during the evening. Of all the updos out there, the best prom hairstyle is a bun or chignon, which is a classic look for any formal occasion. It's one of the best prom styles because it's easy (you can do it yourself if you aren't getting your hair done by a professional), but it looks pretty and will keep your hair well out of your face all night long.
2. Stacks of curls
---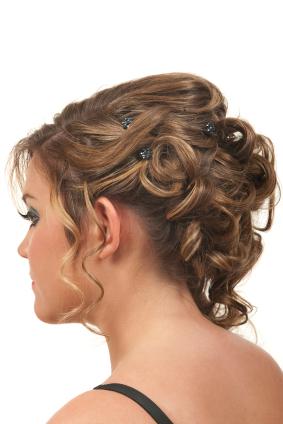 High-drama 'do.
If you have long, curly hair, or long hair that you're willing to take the time to curl, a hairdo that involves stacking your curls on top of your head is dramatic and easy. You can accomplish this hairstyle yourself by pulling your hair up into a high ponytail and securing with a glitzy clip. This is an unfussy, sweet and romantic look that any teen will love.
3. The Flip
---
Let your hair do the flip.
The best prom hairstyle for someone with chin-length hair is a simple flip to the ends of the hair. This is a classic, cute look that's super easy and will get you through the prom and beyond with no fuss.
4. Textured crop
---
Mess up your short hair.
If you have really short hair, consider a messed-up crop look for prom. To create a modern classic, add sparkly barrettes, and use hair gel to help define each section of your hair.
5. The half updo
---
Best of both worlds.
If you have long hair but aren't excited by the idea of a huge hair production for prom, the best prom hairstyle for you is a half updo. This is a super simple look that involves pulling the top layers of hair back and leaving the bottom layers down. For a special touch, secure your hair with a nice clip or a couple of sparkly pins, curl the ends or add a zig-zag to your part and be on your way. It's quick, easy, unfussy and classic.
6. Ponytail
---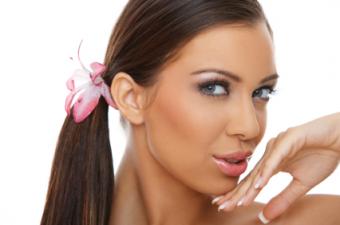 An easy prom look.
You might think that a ponytail has got to be blah, but there are ways to take this simple style beyond the everyday to something pretty and special. It all depends on the accessories. Choose a sparkly clip or a ponytail holder with a huge flower attached, and don't forget to curl your hair for a fancier look. If you think a ponytail is still too boring for a special occasion, think about a combination ponytail/chignon in which the hair is pulled back then flipped up and secured with clips. This simple hairstyle is made memorable through the use of great accessories or even a tiara.
7. Great waves
---
Go with the flow in style.
Another great choice for girls with medium to long hair is to go with waves instead of tight curls. Wavy hair has a casual feel with a touch of today's Hollywood glamor - Ashlee Simpson, Mary Kate Olsen, Jessica Simpson and tons of other stars have sported this look on the red carpet. Use a hair texturizing product to hold your waves in place and keep them from falling flat.
8. Pixie locks
---
Go for a playful look.
If you have short hair and don't want to go messy, try more of a pixie look with a flip similar to the curled bob for girls with longer hair. Using clips and pins can give your style a little bling when you don't have a lot of hair. Simply place some great sparkly pins around your head. If you have bangs you can pin them back, or if your hair is long enough in the back to pin, you can hold it up and sculpt it with these pins for a sleek look.
9. Braids
---
A classic but less formal look.
Making an updo with braids doesn't have to make you look like Princess Leia. In fact, you can just braid your hair and leave it down, or turn your long braids into a fun bun or other hairstyle. Braids add structure and ease to many prom updos. Don't be afraid to play around with different styles and looks, turning simple braids into a beautiful crown.
10. Playful and Punky
---
Try a chunk updo for an attractively messy look.
This nontraditional classic is a great prom updo for the girl who bought a vintage prom dress and plans to wear it with her Doc Martens. To create a punky look, take sections of hair and put them into individual buns, leaving the ends hanging out in chunks if you like. Add clips to keep flyaways out of your face while you dance the night away.
11. Low and Wavy
---
Try a low ponytail and gentle waves.
If you have long, wavy hair and aren't interested in a major hair production for prom, try a low ponytail. This will leave your hair cascading down your shoulders while keeping it out of your face for pictures. Again, you can add extra style to this look with a dramatic clip or even a wreath of flowers in your hair.
12. Your own creation
---
Express yourself.
If you've got a great personal sense of style and want to create something completely fresh and original, embrace your creativity! Play with your hair in a variety of different styles, or consult with your hairdresser to put together a look that is truly and uniquely you.
A lot of girls spend too much time and money getting ready for the prom, with prep work worthy of a wedding. While the prom can be a very special event, it's really just a party. Years from now, you're not going to remember what your hair looked like; you will remember that you had a great time with your friends. Don't worry if none of these ideas suit you - just do whatever makes you feel comfortable and go have a great time!