Tooth whitening is a popular cosmetic dentistry procedure, so the search for the best whitening product offers a wide selection. Although many are available over the counter, it is always best to receive your dentist's approval before undertaking any tooth whitening procedure. It is also recommended to look for the American Dental Association's Seal of Approval on any tooth whitening product.
1. Laser Tooth Whitening
---
Laser tooth whitening is a technique made popular with Zoom!, a product that was featured on the hit TV show Extreme Makeover. Although Zoom! is one of the popular brands of laser tooth whitening, it is a common in-office procedure with a variety of manufacturers. Also known as power bleaching, laser tooth whitening costs more than over-the-counter options but delivers more effective and rapid results. The highest concentrations of peroxide are employed with a laser of heated light to trigger a reaction that quickly lightens the tooth enamel. As the chemical and light are directed, selected teeth can be isolated, avoiding sensitive areas of the mouth. Some dentists say that patients prefer these methods because they are faster than strips or other at-home methods. Zoom! in particular is preferred because it uses light, rather than heat, which may cause less sensitivity.
2. Light Augmented Bleaching
---
Similar to laser whitening, light augmented bleaching uses light rather than a laser to brighten your teeth. BriteSmile is one version of this method. This form of bleaching allows for a lower concentration of peroxide, thus reducing some tooth sensitivity. The Journal of the American Dental Association confirms that adding light to the bleaching products safely increases the effectivness of tooth bleaching.
3. Dentist-Prescribed Bleaching Trays
---
Your dentist can provide a tray that is specifically fitted to your individual mouth shape for home use. This is the recommended alternative to most at-home methods if you have sensitive teeth and gums. The amount of time the trays are worn varies by brand and gel solution, usually as little as 30 minutes or as long as overnight. The product may be used until the desired color change is reached, which may take days or weeks. For some, temporary tooth sensitivity can occur and the process can be awkward and messy.
4. SmileBrilliant
---
SmileBrilliant is a tray alternative to those made by your dentist. The company sends you the materials to make casts of your own teeth, which you send then send back. The trays are custom-made based on your casts and then shipped to your door along with the whitening solution. While the solution may not be as strong as what is applied in the dentist's office, reviewers recommend the product and feel that for the price, it does a great job of whitening teeth.
5. Crest Whitestrips
---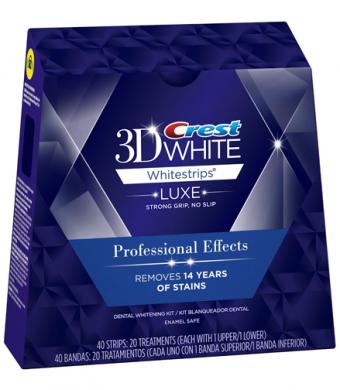 Although there are many brands on the marketplace, the most consistent performer among strip-style tooth whitening products is Crest 3D Whitestrips. The product has won multiple awards and the company claims to be the top dentist recommended brand. Crest Whitestrips dominate the white strip market, and customers like the way the strips stay on the teeth and whiten. Use of strips vary depending on type, but they are typically worn for 30 minutes, twice a day. Results can be seen in as little as three days.
6. Veneers
---
Made from plastic or porcelain, veneers are best for severely discolored teeth. They are also used to repair crooked or chipped teeth. As the veneer does not ever re-stain once it is applied, they are a favorite option for chronic smokers. The American Academy of Dentistry also notes that this may be the best option for people whose teeth have stubborn stains that don't respond to other methods. Although quite pricey, they do last for as long as ten to fifteen years. In some cases insurance will cover some of this cost.
7. Bonding
---
Similar to veneers, bonding is also best for dramatic stains and fixing imperfections. Bonding is a less invasive process and therefore less expensive than veneers. The procedure involves your dentist applying a thin coat of plastic composite material to the teeth and then manipulating the bonding to sculpt, color, and reshape the tooth surface. This process typically lasts three to seven years and is ideal for correcting a single stained tooth.
8. Opalescence Whitening Toothpaste
---
Standard whitening toothpastes found at most supermarkets vary in quality and can take some time to make any difference in your smile. Still, some specialty whitening toothpastes do create an impact. One dentist recommended brand is Opalescence Whitening Toothpaste, which contains only natural ingredients and gets highly favorable customer reviews.
9. Standard Dental Cleaning
---
Before taking on any tooth whitening product, attempt to have your teeth professionally cleaned. The gentle, abrasive, cleaning action employed by a skilled hygienist will remove many yellow stains and brighten your teeth. It might be all you need for a whiter smile, and it's always recommended that you begin with a professional cleaning before trying other tooth whitening products.