Waterproof mascara is designed not to run, smudge, or smear when it gets wet or you are sweating. There is a variety of brands on the market that all claim to be the best, but not all waterproof mascaras are the same. Some aren't that waterproof, or they are miserable to remove, etc. A helpful tip for removing waterproof mascara: get makeup wipes specifically designed for waterproof makeup. This will ensure you get the mascara removed without ripping out some of your eyelashes during the process!
If you're looking for the perfect waterproof mascara for a day at the pool or an upcoming emotional event, these are 10 of the best to consider purchasing.
1. Maybelline Great Lash Waterproof Mascara
---
One of the most recommended picks for waterproof mascara is a surprisingly inexpensive option. At less than $6 at most retailers, Maybelline's Great Lash Waterproof Mascara is an ideal one to try.
Good Housekeeping lists this one as their best overall pick for waterproof mascara for 2017. It received the highest score in their testing lab for its smudge proof capability. GH's testers also gave it a top score for volumizing, lengthening, and lash separation. TODAY also includes Maybelline Great Lash in their round up of 6 waterproof mascaras that professional makeup artists buy at the drugstore.
It earns an average of 4.2 out of 5 stars on Maybelline's website, with the majority of 1 star reviews from unhappy customers who want them to bring back the Royal Blue color. The bulk of low Amazon reviewers note this product gives "raccoon eyes" after only a few hours of wear, indicating it's not as smudge proof as customers were expecting.
Maybelline's Great Lash Waterproof Mascara is available at drugstores nationwide, or you can purchase online at retailers like Amazon. Shades available include Brownish Black and Black.
2. Clinique High Impact Waterproof Mascara
---
Clinique's High Impact Waterproof Mascara makes a lot of the "best waterproof mascara" lists, including Vogue UK Magazine's best under £15. In the US, the price on Clinique's website is $17.50, which is still a great price. Eighty-one percent of reviewers on Clinique's website said they would recommend this waterproof mascara to others. Reviewers love it because it goes on smooth and doesn't clump at all. Some reviewers noted they wore it for their wedding day, which saved their professional photos after an emotional ceremony.
Cosmopolitan has a great article on their testing process for various waterproof mascaras, complete with photos. They start with spraying water in the eye, then hold a water soaked cotton pad on the lashes for five seconds, and finally try smudging the mascara by dragging down on the lashes. Their overall winner is Clinique's with a 10/10 score.
Some consumers find this too wet and "gloppy" for their taste, noting their lashes ended up sticking together, while other reviewers feel it's too waterproof and yanks off their eyelashes when trying to remove at night.
Colors available on Clinique's website include Black/Brown and Black.
3. Too Faced Better Than Sex Waterproof Mascara
---
The Too Faced Better Than Sex Waterproof Mascara is one of the most recommended options by a number of testers, reviewers, and beauty experts, like Allure Magazine's Beauty Editors. This is their top pick for waterproof mascaras, as it goes on even, coats every lash, and doesn't smudge at all.
According a clinical study of 32 people, 97 percent praised the intense volume and length and 94 percent said it stays on all day. Reviewers on Too Faced's website especially recommend this for athletes and those who work out and sweat a lot as it's completely smudge proof. Those who don't like the product are typically consumers who love the brand, but find the waterproof mascara doesn't work as well when compared to their favorite original Too Faced mascara. Complaints include clumping and difficulty removing at night.
Too Faced Better Than Sex Waterproof Mascara comes in Black and is available from a number of retailers, including Sephora and online at Too Faced.
4. Lancôme Défincils Waterproof High Definition Mascara
---
Total Beauty's round up of the best waterproof mascara shows their members choose Lancôme Défincils Waterproof High Definition Mascara as their top pick. With an average rating of 9.0, readers say it's great for elongating and separating lashes completely while not smudging.
If you're not familiar with Total Beauty, they've been around since 2007 and pride themselves on their mission to break through the traditional beauty media world. They focus on consumer reviews and exposing beauty products that don't meet advertised claims, a subject often overlooked in the traditional print media world.
Reviewers on Lancôme Paris' website give it an average 4.7 stars out of 5. It's ophthalmologist-tested, fragrance-free, and suitable for contact lens wearers. There are a small number of negative reviews, wherein users note it is difficult to apply and can flake easily.
This waterproof mascara is available in black and brown and be purchased from a variety of retailers that stock Lancôme products, or order online at Lancôme USA's website directly.
5. MAC Cosmetics In Extreme Dimension Waterproof Mascara
---
Women's Health Magazine put waterproof mascaras to the test and came up with four options they feel confident in recommending as the best. One of these is MAC Cosmetics In Extreme Dimension. This product made the list due to having lots of volume, and no flakiness after swimming.
Allure Magazine also has a featured review on this product and named it one of their Best in Beauty products for 2016. Putting on four coats left the reviewer with separated, curly, and lengthened lashes and testing it on one of the most humid summer days in New York City resulted in zero smudges.
Users who don't like the product complain it's very difficult to remove and the brush doesn't cover the circumference of their eye, reaching all their lashes.
In Extreme Dimension Waterproof Mascara only comes in black and is available for purchase where MAC products are sold or directly on their website.
6. Maybelline Lash Sensational Waterproof Mascara
---
One of the main reasons a waterproof mascara makes the "best of" lists by beauty reviewers is its ability to not smudge, even after 12 hours in constant humidity. That means it can be far more difficult to take off at night. Glamour Magazine recommends Maybelline Lash Sensation for its smudge-proof durability, but notes this is one of the easiest waterproof mascaras to remove. That makes this a real strong contender if it's strong enough to stay on all day, but gentle enough to ensure you don't rip your lashes out while removing it.
The biggest complaints from some reviewers on Ulta Beauty talk about the difficulty to remove, in addition to its flakiness, sticky texture, that it dries out quickly, and runs/smudges.
Look for it in drugstores across the country on Brown Black or online at sites like Ulta Beauty.
7. Christian Dior DiorShow Blackout Waterproof Mascara
---
Consumers looking for the best waterproof mascara aren't always planning to spend the day in the pool or sweating profusely. They want mascara for an emotionally charged event, like their wedding. Vogue Magazine shares their 13 top mascaras for your wedding day, and one of the top ones for lengthening your lashes, in addition to being waterproof, is Christian Dior DiorShow Blackout Waterproof Mascara. Christian Dior's DiorShow is also on Good Housekeeping's list for best waterproof mascaras. It scored the highest in their labs for lengthening and volumizing capabilities, as well as being non-irritating.
Complaints from consumers on sites like Sephora indicate the brush gets goopy quickly, and it seems to smudge after a few hours of wear.
Available in Kohl Black, DiorShow waterproof mascara is available where Dior Cosmetics are sold, or directly on Christian Dior's website.
8. Eyeko Sport Waterproof Mascara
---
If you're looking for a waterproof mascara that can withstand a heavy exercise routine, consider Eyeko Sport, which is renowned for its staying power. The one caveat though is that it can only be removed with Eyeko wipes. InStyle UK recommends it on their best waterproof mascara list because of its staying power, but also because it has conditioning properties for your lashes. It's made with collagen and 11 different fruit extracts. Eyeko Sport has received several awards, including Allure's Best of Beauty in 2015, InStyle's Best Beauty Buys 2017, and Brides Beauty Awards 2017.
Aside from potential difficulty in removing the mascara at night, other consumers who aren't happy with Eyeko feel the brush is difficult to use and the bottle is a bit gimmicky in style.
Eyeko Sport Waterproof Mascara is available from a number of retailers, including Nordstrom.
9. Benefit BADgal Waterproof Mascara
---
Beauty experts from publications like Marie Claire and ELLE Magazine recommend Benefit BADgal Waterproof Mascara. Its long-wearing, smudge-proof, and volumizing. Good Housekeeping also has it on its list and notes testers found this to be a great option for those with sensitive eyes, scoring top marks for not irritating their eyes.
Consumers who don't like BADgal waterproof mascara note it's hardly smudge-proof, whether you're in the middle of a sweat-inducing spin class, or just walking outside in humidity.
Benefit BADgal is available from a number of beauty retailers, including directly on Benefit Cosmetics' website.
10. Urban Decay Cannonball Ultra Waterproof Mascara
---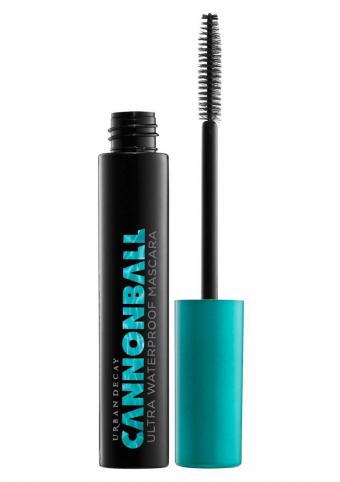 The last product that made many "best of" lists is Urban Decay Cannonball Ultra Waterproof Mascara. Its Japanese formula with microcrystalline and beeswax is a favorite among testers. Urban Decay notes it has been heavily tested in ocean conditions as well as sweat-drenching gyms, and it refuses to budge.
Reviewers on Urban Decay's website give it 4.7 out of 5 stars and love how it stands up to a long day in comparison to other options. Of the few negative reviewers, one person noted it doesn't work well to curl very straight lashes, and a couple other consumers don't feel it's completely waterproof as it does smudge some.
Purchase it directly on Urban Decay's website or other retailers like Sephora.
Choosing a Waterproof Mascara
Makeup is a very personal industry, and what works for one consumer may not be the ideal product for someone else. If you're on the hunt for waterproof mascara for a major event, like your wedding, it's important you try out a few of the top recommendations before the big day. Put them to the test on a humid day, in the pool, at the gym, and/or during an emotional Netflix binging session. Some products may work better for contact lens wearers or those with sensitive eyes.
Look at and/or ask about refund policies when you're purchasing these in case they irritate your eyes so you aren't wasting money on a variety of products you can't use.
Lastly, be sure you're getting makeup remover that is designed to remove waterproof mascara. There's nothing worse than sacrificing your long lashes just for mascara that stays on all day long.