Unique Best Friend Gifts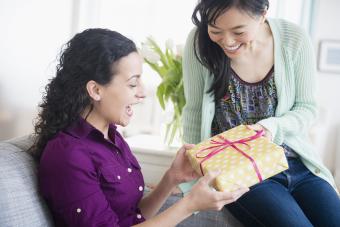 Your best friend and your friendship are unique and deserve special treatment. Whether it's her birthday, Christmas, or the anniversary of the day you met, a one-of-a-kind gift shows your BFF how much you appreciate her friendship.
Journal Your Feelings
Buy Now"
Give your bestie the gift of kindness and memories with the Why You're My Bestie Fill In the Love Journal. This mini book costs around ten dollars and is loaded with open-ended prompts where you can gush all about your friend. Make it silly or sentimental; either way, she'll love looking back at all the reasons you love her.
Make Matching Mugs
Capture Comfort
Buy Now"
Everyday items your BFF will see and use often make great gifts. The Country House's burlap pillow provides physical comfort and an emotional reminder of your bond. Featuring the phrase "We Will Be Friends 'Til we are Old and Senile... Then we Will Be New Friends," this eight by eight pillow costs about $15 and includes personalization of both your initials on the back. There's also a grey cotton version if you don't love the feel of burlap.
Be Book Buddies
More Details"
If you and your best friend share the love of a friendship fostered by Jesus, DIY Best Friend Bibles are the perfect gift. All you need are two bibles, a highlighter, and some gold foil to add the classic broken heart "Best Friends" graphic to the edge of each bible. Highlight your favorite friendship verses inside to remind your bestie of you each time she reads it.
Style Your Sentiments
More Details"
Let the whole world know how much you love your best friend with matching My Best Friend Shirts. Choose from shirts in black at 24 dollars or gray at 15 dollars with red and black font reading "My Best Friend" and an image of an arrow pointing to the left or right. Wear the shirts when you head out together so everyone knows how close you are.
Add Some Bling
Go beyond the standard friendship bracelet or broken heart necklace and make your own unique piece of jewelry. All you need are a leather cuff and leather cord to tie on a metallic word charm. You can use metallic crafting wire to form a word like "Bestie" or "BFF" or purchase a custom charm with a phrase or saying like a personalized shoe tag.
Give a Sign
Make your friend a token of praise that can be hung for the world to see. Drill a hole on either end near the top of a piece of lumber or driftwood then thread a strand of rope through the holes to make a hanging sign. Purchase vinyl letters and decoupage them onto the sign or paint your friendship phrase. Make sure to coat the sign with a sealer so it can last as long and your friendship.
You're My Person
Buy Now"
Send a subtle, yet sentimental message to your friend with the gift of message socks. These long, vintage style socks feature the message "You're My Person," made famous by television show Grey's Anatomy, on the bottom with a cute heart and arrow graphic. Choose from a variety of colors like pink, gray, or blue for around $5 per pair.
A Gift as Unique as Friendship
Finding or making unique gifts takes more time and energy and tells your bestie she's worth all your efforts. Show off your special bond and originality with presents no one else will have. Think about your BFF, what you love about her, and what makes your friendship unique.
Other creative gift ideas include adding a friendship poem or saying to an original piece of art or planning a friendship day where you spend time taking friend quizzes.