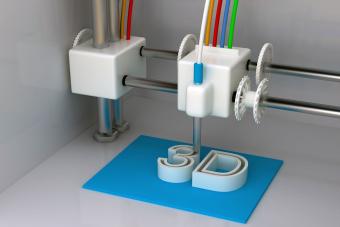 3D Printers are on trend! It couldn't be a better time for your average prosumer to shop for one because many printers have struck a balance between achieving a high quality print and affordability. There are still a plethora of machines to wade through, and the assorted values and features can be intimidating. However, these eight options stand out from the crowd.
1. Formlabs Form 2
---
All About 3D Printing includes this model on its list of the top 3D resin printers. The Form 2 is an impressive machine that prints using light-reactive resin printing (also referred to as stereolithography or SLA) to near perfect accuracy and quality. It offers three forms of connectivity: USB, Wifi, Ethernet. Formlabs ships the printer with its own software, which has simple set-up and a push-button interface. Overall, this printer offers fantastic prints but lands higher on the price scale.
The different resins are a boon depending on the purpose of your print. Tough resin is ideal for functional parts. Flexible resin makes for fun, bendable models. Castable resin can be used to make negatives for jewelry, and dental resin is biocompatible and can be used for printing medical equipment. However, resin-based materials are often toxic, which limits the ability to print food- and kid-safe pieces. There's also the added inconvenience of post-print treatment, which can be sticky, difficult, and more time consuming than filament-based printing.
If you're a hobbyist printing out fun pieces, this machine may be overkill, but it could be ideal if you're printing for industrial or commercial purposes. These are for sale from a few vendors, but you can easily find them on Formlabs website.
2. Ultimaker 3
---
With a dual extrusion system, frequent software updates, and all around great quality, the Ultimaker 3 is a fantastic model that falls on the list of Tom's Guide's best 3D printers of 2017. Most printers have a single extrusion filament system, wherein a thermoplastic material is melted and extruded layer by layer, and if you want to print with more than one filament, you must stop your print and manually swap it out. The benefits of Ultimaker's dual extrusion system include swappable print cores that let you quickly change out materials while you're in the middle of a print, giving you greater variety of filament color and type.
Besides the higher price tag, a potential downside is the added upkeep of maintaining two nozzles. The sensors on the print bed lessen any difficulty, noting when slight adjustments need to be made to the bed. This is an ideal model that can be found for purchase on Amazon.
3. Original Prusa i3 MK2
---
CIO Digital Magazine names the Prusa to be one of the best for quality print builds and more. Beyond updated construction, the newest version of this printer includes upgrades like a more evenly heated bed, a low prep PEI build surface (which helps your prints stay put, but doesn't glue them down), and a sensor to improve auto mesh bed leveling. These features combined make for a more even and less finicky print. A fun perk of the Prusa is the ability to swap out the nozzles in order to use a huge array of filament types, like wood, glass, or carbon-fiber enforced materials.
This is one of the more sought after printers because it delivers on quality and accuracy while being at the lower end of a high price range. You can buy this printer fully built or as a kit on the Prusa3d main site.
4. Wanhao Duplicator i3 Plus
---
Another winner on All About 3D Printing's Best of 2017, the Wanhao design is based off of the Prusa i3, but the cost is lower. The main body of the Plus has a built-in touch screen and improved data input via a full-sized SD card slot - the older version featured only a mini SD card reader and had recall issues due to bunching and fraying wires. This newer model avoids that second issue with a ribbon cable that tames any hazards.
The machine can print using standard PLA and ABS filament (though without an enclosure, always beware of toxic fumes from the latter) as well as Exotics like flexible filament. Overall, usability is improved, and this model makes for a good day-to-day printer. The price is ideal for a budget enthusiast with some printing experience.
It's available on Amazon.
5. Monoprice MP Select Mini
---
As one of MakerHack's top budget printers, the MP Select Mini is also a solid middle ground choice for a first time printer's machine, especially for newcomers willing to get their hands dirty. The earliest version of this machine is known to have minor issues. The bed requires tape to prevent sticking, and some prints come out with Z banding (slight separation between layers). However, it comes with a heated bed and is compatible with multiple softwares. Also, the MP Select Mini is noted to print at 100 microns, but is actually capable of printing in great detail of at least 55 microns.

One of the highlights of this machine is how simple it is to upgrade it yourself. After a couple low-cost, self-made modifications, the machine is capable of matching the quality of printers that are five timers more expensive, with only a minor sacrifice to speed. A vibrant community is constantly refining printable modifications and a second version of the printer (with improved features such as a better build surface) has been released this summer.
You can find it available for purchase through Monoprice.
6. LulzBot Mini
---
Back on the higher cost end, the Lulzbot Mini is a high performance printer. The physical design includes a .5mm extrusion nozzle, which allows for faster prints. The printer comes standard with Cura and instructions on how to set up the software. With a PEI, heated borosilicate glass bed, you won't have to be concerned about your prints curling up at the bottom layer. The nozzle auto cleans, so as you print over time, artifacts from the filament won't clog the works. As an added bonus, this machine can print using a wide variety of filaments, including standard plastics, wood, metallic, and luminescent materials.
If you'd prefer to print smaller details, however, you would need to attach a nozzle with a smaller opening. The body lacks onboard controls, so the machine must be connected to a computer via USB in order to print. Besides those small quirks, this is an all around great machine, rated second on Popular Mechanics's top six list of 3D printers.
You can purchase this printer from LulzBot directly!
7. XYZ da Vinci Mini
---
The XYZ da Vinci Mini is across the board a good printer for those who are new to 3D printing and is Tom's Guide first choice of budget printers. While the user is limited to using only XYZ's proprietary PLA filaments, the printer settings are easy to work with and the design provides enclosed printing. You can select to print for "Normal, Good, or Excellent" quality, though keep in mind that these straight-forward settings will vary the time of the print. If you primarily plan to print simple models, this machine is ideal for a newcomer with patience for tinkering.
The issues at large are especially slow printing at high resolutions as well as failed prints in complex models. Often, the user will have to pre-set a raft to prevent sticking or curling. In general, the models it prints can't be too large or detailed. However, for someone on a budget who is making her foray into 3D printing, it could be ideal. Sometimes, it's okay to use a machine that sticks to what's simple.
You can buy it from XYZ.
8. Flashforge Finder
---
PC Mag chose the Flashforge Finder as one of their top 3D printers. Positive aspects of the Flashforge Finder include its moderate price tag at $499, multiple means of connectivity (USB cable, thumb drive, or WiFi), and quiet printing. The print layers come out evenly on a consistent basis so you can count on a quality print.
Downsides include difficult set-up and a finicky printer bed. The bed is not heated, which can result in your prints separating from the bed and curling at the edges, so it is recommend by other users to apply tape or a thin layer of glue stick to the bed in order to minimize that issue. Also, the bed does not automatically level, and the manual process to do so seems unnecessary compared to printers that manage to include auto-leveling.
If you're willing to put in the work and want a lot of printer for a smaller price, you can buy the Finder at Flashforge's site.
Finding the right printer for you depends on what you're most interested in 3D printing and how you're going to use those models. Whether you're looking for a high-end, do-it-all 3D printer where cost isn't an object or you're a hobbyist who simply wants a printer that will create cool models, there is a range of quality, affordable printers available.