Plus-size women can find bikes that offer great rides, are built for the athlete or weekend rider and can take anything from punishing treks to around-the-neighborhood trips. Whether competing or enjoying a recreational outlet for fun or health, women riders can find many well-designed, safe, and comfortable bikes to suit larger bodies and unlimited fun.
Industrial Bicycles
Industrial Bicycles manufactures bikes for commercial and recreational use (including trikes), with a focus on tough frames and riding comfort. The Husky line can carry total weights of up to 400 lbs.
The Sun Atlas line offers a woman's bike with a heavy duty high-tensile steel frame, single-speed gearing, and Shimano coaster brake. It retails for around $350 and is an excellent recreational bike.
The single-speed Sun Traditional tricycle is excellent for riders who need more stability on the road. With 24" wheels and a low-step through for ease of use, the trike is user-friendly and comfortable. Retail price is around $420.
A Husky Unisex carries up to 300 lbs. and is recommended for use on multiple surfaces. For riders who want to do more than trail trips, this bike can carry light cargo, is easy to maintain and ride, and retails for around $360.
Industrial Bicycles can be ordered online, or you can visit or call them about retail outlets.
Kent International
If what you spend on a bike is not a consideration, then take some time to look at bikes by Moots (named after a beloved childhood toy), famous for their custom titanium frames. Moots professionals are experts in determining the best bicycles for plus size women based on height, weight, and use.
You can find road or mountain bikes to suit your exercise, competition, or recreational needs. While you can purchase Moots' off the rack bikes at retailers, you can also order custom, high-end bikes, but expect to pay $4,000 and up to $10,000. Locate a retailer, or call the company for information.
If you don't like to put your bike away in the cold months, consider the Frosthammer, an all-season bike specially made for dirt and snow biking. Specifications and pricing vary depending on what model you choose.
Contact Moots for information about retailers or custom orders.
Worksman Cycles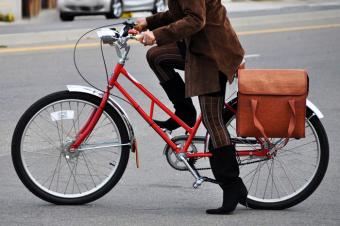 Worksman calls itself the oldest bicycle manufacturer in the U.S. Located in Queens, NY, they make long-wearing, heavy duty bikes that last for generations. Plus size riders will find everything from cruisers to an electric tricycle.
Worksman will customize bicycles for heavier riders, and they suggest that riders over 275 lbs. order a drum brake upgrade as well as upgraded tires and tubes.
A ladies' cruiser with Shimano E110 coaster brakes, up to three gears, and steel mainframe has a maximum carry capacity of 500 lbs. for around $400.
Folding bicycles can carry up to 250 lbs. and are a terrific option for traveling or having some around-town fun, with prices generally between $250 - $400.
Zize Bikes
Zize was founded, in part, to provide attractive performance bicycles for plus-size riders. They have succeeded, and their bikes are known for their comfort, strength, and the ability to give riders up to 550 pounds a smooth and dependable ride.
The Time of Your Life bicycles offer chromoly steel frames, double-bolted seat, 36 professional-grade stainless steel spokes, extra wide rims, forged alloy pedals, and other upgrades. Prices begin at $2,500, and custom options are available.
While not specializing in bikes for plus-size riders, other companies do offer bikes that can carry higher capacity weights. You may have to change out the tires or make other adjustments, but shopping around can reveal additional choices for your needs.
Selecting Your Bike Type
How you will use your bike will determine what type you might need. Consider where you will ride it - in town or in the country. Also keep in mind whether you need one that can handle conditions such as sand or snow.
Mountain bikes are rugged for off-road use; they have fat knobby tires, flat handlebars, and low gears. A comfort bike has padded seats, allows the rider to sit upright, and may offer lower gears for riding.
Hybrids are a cross between mountain and road bikes with narrower tires, flatter handles, and higher gears than a mountain bike.
Cruisers are the bike many people learned to ride on: single or multi-speed cycles built for riding on streets and sidewalks.
Road bikes are built for pavement riding and usually have thinner tires and drop handlebars.
Trikes or tricycles have three wheels and comfort seats that let the rider sit upright.
Make sure to get the correct size of the bike type you choose. The length of your inseam is the best determinant in choosing a frame size (height). This height will also determine how comfortable you are gripping the handles.
Features to Consider When Buying a Bike
There are lots of factors to consider when shopping for a plus-size rider's bike, including safety, comfort, and aesthetics. Here are some things to consider when shopping for your bicycle:
Wider, tread tires are easier to balance on and provide a more comfortable ride.
Tire pressure and tire size can be altered to suit a plus size rider's needs. Some heavier riders suggest that higher tire pressure makes for easier biking.
Tire size and rims should be considered, as much for comfort as for safety and product endurance. Handmade, quality rims and spokes will outlast most mass-produced examples.
Get the right gearing. Sheila of the Women's Cycling states: "Given the chance, get a bike with three chain rings. A 'triple' has an extra little chain ring with about 30 teeth. It's called a 'granny' for good reason! It helps both the old and overweight climb hills."
Gears/speed needs vary with the type of bike, the terrain you will travel, your preferences and so on. It's best to talk to the dealer or get recommendations from riding colleagues to determine your needs.
Saddle seats with extra width and padding can be found for plus size riders, making riding a lot more comfortable at the bottom of it all.
Ask the dealer if they work with plus size women riders or have experience with customizing bikes for heavier riders. Check into warranties for the bike: they may vary with each manufacturer.
Fun and Fitness
Whether you are a new or experienced plus size bicyclist, women have many styles and options to choose from. Build your best ride, and enjoy the journey. When you have the right bike, you can enjoy fun and fitness in comfort, style, and confidence.