The best acoustic guitars are those that embody top notch workmanship in order to provide excellence in sound and playability. Several top brands can be counted on to provide superior craftsmanship and attention to quality, and they are the brands to whom guitarists can turn for outstanding instruments with both playing and staying power.
The Best Acoustic Guitar Brands
Just like in the world of cars, there are guitar brand names that are synonymous with quality. You can certainly get a quality guitar without a brand name, but some brands have built their name on a reputation of craftsmanship, service, and sound. Keep in mind that top brands cost top dollars in alignment with the high quality of their materials and the supreme mastery of their craftsmanship.
Martin
The name Martin has become synonymous with the very best quality acoustic guitars. The company offers a wide variety of instruments, from custom guitars and limited editions to their regular lines of guitars. Martins are made from top quality woods like rosewood and spruce, and each model is specifically crafted to deliver sonic excellence. From the 000-15SM for experienced guitarists to the Little Martin for beginners, Martin guitars set standards of construction and sound for all other guitars to follow.
Gibson
Gibson produces some of the world's best acoustic guitars, including the Robert Johnson L-1 and the pearl-and-silver accented Gibson SJ-250 Monarch. The latter instrument was a favorite of such guitar heavyweights as Roy Rogers, Graham Parsons, and Pete Townshend, but with a price tag of over $25,000, it might be out of your range. One of Gibson's best-selling guitars is the J-45, nicknamed The Workhorse. It features an exceptionally warm tone which sparkles on the high end.
Taylor
One of the best loved brands for high quality acoustic guitars is Taylor. The company produces a number of outstanding models that feature gorgeous wood grains and innovative necks and pickups, earning them an excellent reputation with guitarists. Intermediate guitar players will enjoy the Taylor 110 with its classic dreadnought shape and smooth playability. Advanced guitar players will love the 810ce with its cutaway design and unique sensor system that enhances the resonance and clarity of the guitar's tone.
Breedlove
Breedlove enjoys substantial loyalty in the hearts and minds of many guitarists. The company offers acoustic guitar models of great beauty, sturdiness, and sublime playability. The guitars of the American Series, featuring quick, low action on mahogany necks, are instruments that any serious musician would be pleased to own. The guitars of the Master Class series, featuring top woods and innovative, sound enhancing body shapes, can take their well-earned place among the best acoustic guitars out there.
Takamine
Based in Japan, Takamine has long been a leader in the manufacture of stellar acoustic guitars. The Takamine G series is great for beginners. The G340 is affordably priced and features a dreadnought body with abalone features. Weighing in at ten pounds, it is light and features a superb tonal quality. String changes are easy on this model. For advanced players, Takamine offers the Signature Series, whose guitars feature spruce and rosewood construction and a punchy voice that will inspire truly great performances.
Yamaha
Yamaha is known for high quality, well-priced acoustic guitars that range from appropriate instruments for beginners to guitars of professional grade. Their FG730S Solid Top Acoustic is a great setup for beginners in both tone and sound quality. The guitar is well built with die cast tuners and a strong neck. The Yamaha LJ6, with its jumbo sized body and fabulously open sound, makes an excellent choice for intermediate or advanced players.
Fender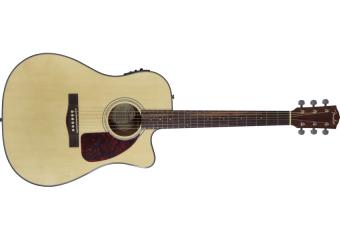 Fender is another heavyweight in the world of acoustic guitars. While you can expect a high level of craftsmanship from Fender, the price points of the high end guitars are significantly lower than those of Gibson. The CD-140 acoustic is one of the most popular basic acoustics. With a rosewood fingerboard lined with 20 frets and a good reach between the strings, the guitar is easy to play and even easier to maintain. A powerful and loud acoustic, the guitar combines style with playability.
Ibanez
Though Ibanez is strongly associated in many people's minds with electric guitars, they also manufacture excellent acoustic guitars. The Ibanez Artwood series offers guitars in various styles and sizes, all of which feature tops made of solid wood and a warm tone with superb projection. The AC240 Grand Concert Acoustic Guitar has a natural, open pore finish, which shows off its aesthetically pleasing mahogany wood grain.
Epiphone
Epiphone is a junior brand of the Gibson line. The guitars are constructed in Asia which sometimes means lower labor costs and a lower price point. This doesn't mean, however, that you can't get a quality acoustic guitar at a low price. The DR-100 is excellent for beginners, and the Hummingbird is a quality instrument at a reasonable price for the intermediate guitar player.
Personal Taste
What makes an acoustic guitar great for one person might not work for another. What other people think about the sound of a jumbo, red spruce-topped guitar matters little if you think that a classic maple body best captures the sound you want to create. When you are shopping for a top brand acoustic guitar, remember to go with the guitar that sounds best to you.